Workshop on the creation of an international Data for History consortium
École normale supérieure de Lyon, 23-24 November 2017.
Organised by the Pôle histoire numérique (Digital history department) of the LARHRA laboratory.
23 November 2017 - Public session, registration required

15:00 Introduction.




Bernard Hours (Université Jean-Moulin Lyon 3, Director of the Laboratoire de recherche historique Rhône-Alpes)

15:15 The dataforhistory.org project : a proposal.
Francesco Beretta (CNRS-Université de Lyon, Laboratoire de recherche historique Rhône-Alpes)
George Bruseker (FORTH-ICS, Center for Cultural Informatics, Heraklion)

16:00 Spotlight presentations of present projects (5 minutes presentations)

Golden Agents: Modelling histories of the creative industries of the Dutch Golden Age.
Charles van den Heuvel (Huygens ING, Amsterdam)
Veruska Zamborlini (Universiteit van Amsterdam)
Interfacing people and modelling economic activities.


Georg Vogeler (Karl-Franzens Universität Graz, Zentrum für Informationsmodellierung)

The PANDORA Ecosystem.


Jörg Wettlaufer (Akademie der Wissenschaften zu Göttingen, Göttingen Centre for Digital Humanities)

Documenting the Past: extending the CIDOC CRM family to Archaeology (CRMarcheo), Historic Buildings (CRMba) and Historic Places (CRMspace).
Franco Niccolucci
Achille Felicetti (Università degli Studi di Firenze, Vast-Lab)
APIS: Building the new Austrian Biographical Dictionary.


Matthias Schlögl (Österreichische Akademie der Wissenschaften, Austrian Centre for Digital Humanities)

Early Modern Professorial Career Patterns - Methodological research on online databases of academic history.
Thomas Riechert
Edgard Marx

(Hochschule für Technik, Wirtschaft und Kultur Leipzig, Agile Knowledge Engineering and Semantic Web)

IMPRESSO. Media Monitoring of the Past or how to process data from media archives (and deal with digital bias).


Estelle Bunout (Université du Luxembourg, Luxembourg Centre for Contemporary and Digital History)

histHub – a hub for historical data in Switzerland.
Pascale Sutter
Bernhard Ruef (Law Sources Foundation of the Swiss Lawyers Society)

Connecting Art Histories. Outline of a future Swiss Art Research Infrastructure.




Thomas Hänsli (Universität Zürich / ETH Zurich)

The Information system on French businessmen (SIPPAF), an application of the symogih.org generic model.


Pierre Vernus (Université Lumière Lyon 2, Laboratoire de recherche historique Rhône-Alpes)

17:00-18:30 General discussion about the dataforhistory.org proposal.

24 November 2017 - by invitation only

09:00-10:30 Activity planning for the next months.

11:00-12:30 Consortium organisation and funding.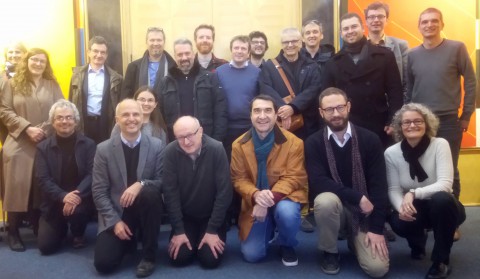 Participants at the Data for History workshop - Lyon, 24 November 2017.
(Thomas Hänsli, CC BY-NC-ND 4.0)